Well, needless to say our weekend plans changed for this past weekend, so I did get to do the Ride for Sight on August 12th (last Sunday), which is a charity ride put on by the Sunrise Lions Club in Cheyenne.  My first road biking activity, my first time with rest stops, and my first bib number!  So exciting!
The lack of training was obviously there.  So on Saturday before the ride Matt and I rode 34 miles along Highway 130 and Herrick Lane, which are west of Laramie.  I was surprised at how fast the miles flew by, and it was a really great ride until the monsoon came and pelted me with hail
  But it helped us mentally prepare for the fact that our goal of 50 miles during RFS was obtainable.
We pulled into Cheyenne's North Community Park at about 5:50am.  Early mornings are not my thing, but the excitement for the day overrode my heavy desire to crawl back in bed.  Spoiled by this summer's stupidly hot temperatures, I found myself freezing in the 55 degree weather, thankful I had my new Primal thermal jersey on over my normal jersey.  We checked in, learned that we wouldn't get our ride jerseys until about October since we registered so late (SAD FACE! But totally worth the weight, they're lively and colorful).  They provided bagels, fruit, and juice for breakfast, so we stocked up and headed back to the car where we could huddle up to the heater.
I kind of felt out of place because it seemed like literally everyone else was wearing club or team jerseys.  But that faded away once we started the ride at 7am.  We found ourselves in front of the pack, steadily passing others that I am sure have been cycling longer than I have been alive.  The hardest part was pacing ourselves and not turning it into a race, which was pretty easy to do.  My legs soon found a rhythm and it all became an automatic motion.  The wind was even pretty "calm!"
Once we were out on Horse Creek Road, Matt and I realized that nearly the whole way back was downhill.  This quickly changed our goal from 50 miles to a metric century, which is about 62 miles.  Why not, right?  Our bodies felt good and it was just enjoyable.  Then Matt decided we should shoot for 75… by then we had stopped at our 2nd rest station and my back was started to get aggravated.  I tried to protest, but continued on.
The rider traffic had significantly thinned out the further we went (heck, we were seeing people turning around at the 10 mile mark…).  We soon reached the turnaround point, and snapped a few photos, and then started back.  It was going well until the final 10 mile descent on Horse Creek Road where magically the wind changed directions to a strong head wind.  Of course, right?!  By then, I was miserable.  My back kept spasming, and my knees ached with every pedal stroke.  My butt ached, but every time I relieve pressure off of it sharp pains would occur.  I started to wonder why I do torturous things, let alone pay money!
5 hours and 27 minutes after starting, I made it back to the car!  Turns out the return route through northern Cheyenne was different from the start, so I missed 75 miles… the GPS messed up a bit and gave me a final time of 72.7 miles, but originally said 73.1miles.  Whatever, I'm calling it 73 miles!  Matt rode a few extra miles to break the 75 mark while I returned to the car.  Wow, I did it!  Only one month on a road bike, and three months cycling in any form, and I just rode 73 miles!
This is when how tired I was really set in.  My body actually didn't hurt as bad as I thought it would after I got off the bike.  I was just DEAD tired.  I passed out for a few hours once we got home to Laramie, and still seemed like a zombie through dinner.  Now, two days out from the ride I just have my usual severe knee pain, but otherwise I'm feeling pretty good.  My butt slightly protests having to climb into the saddle, but nothing that is bothersome.
Which is good… because I mountain bike race tonight!  Last race of the Laramie series.  The course is way different and has trails I've never ridden before (actually, I never knew one of them existed…) and seems like a lot of climbing.  It is only one lap, so I think I'm just going to sit back and enjoy the ride and just be happy to finish (see my last post about the non-beginner-ness of the beginner class…).  I am mostly excited about getting to use my brand spankin' new Garmin Edge 500 cycling computer/GPS!!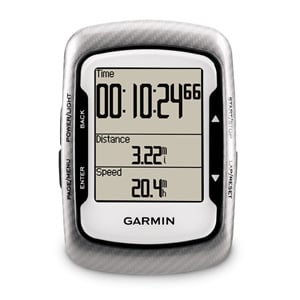 Yes yes yes… I had to buy another new toy… ever since buying the mountain bike in May I have been using some GPS app or another on my iPhone 4 to log all of my rides.  After the headaches of Runtastic Mountain Bike being stupid, I switched to Strava exclusively about a month ago.  But I started to realize the limitations of phone based GPS apps (and hate how it drains the battery… I luckily finished the RFS with 14% left, Matt's iPhone 4s battery completely died about 8 miles from the finish.  Since I mostly ride in cell coverage areas, I rely on my phone as being a way to call for help, so draining batteries are bad mojo).  I have also been wanting to see cadence, and hell why not, heartrate.  This little device can track so much, it makes me giddy!
I will try to do a full review after I have some good use/experience with the device.  Last night I rode 0.3 miles with it just to test it out, but that's all.  Tonight's race will be a good trial of it and the accessories.  I hope it meets my expectations!