Since last August I had been rocking a Garmin Edge 500 on my handlebars, with much success until Garmin did a screen replacement for me, which totally skewed my GPS reception (the reception had been completely normal with the shattered screen!).  Waiting 25 minutes for satellites to get located (no, really!  That long!) and horrible reception that actually showed me riding in circles in a field once, when I was really riding down a perfectly straight road, started to wear on me.  Garmin told me to just reset it, which didn't work.  I had to start using my iPhone to "back up" my Garmin in case of bad data, which meant some Strava uploads didn't have heartrate and cadence info (oh my!).  So when I heard that Garmin was releasing the predecessor to the Edge 500, I was more than happy to jump on the bandwagon!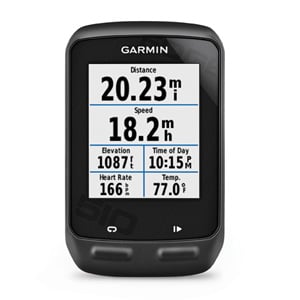 Today I managed to get my hands on the new Garmin Edge 510 at my local REI.  REI only offers the bundle package in stores, which I was fine with since I already needed another GSC-10 Cadence & Speed Sensor, and apparently I got the only one that they had gotten in stock!
DCRainmaker has an absolutely AWESOME in-depth review of the Edge 510 – way more in-depth that I would ever could expect to go.  For all the little details and how-to's, I suggest reading his review.  I am just going to showcase my unboxing, size comparison, and my overall impressions, especially in comparison to the Edge 500.
What's in the box:
Edge 510 unit
2 standard Garmin mounts and a large pile of varying sized rubber bands
"Out-Front" Garmin mount
Premium heartrate monitor
GSC-10 Speed/Cadence Sensor with zip ties
Mini USB cable
Lanyard tether
AC charger with US and European adapters
Manuals in many many many different languages.
As seen in the photo, all the included bits are in their own plastic bags, which does lead to a lot of trash if they're all opened, but does make everything organized.  And oh yay, the Out-front Bike Mount!  I totally was not expecting this to be included, especially since it is a $40 accessory on its own!  Definitely relieves the pressure of having enough bike mounts, since I currently have 4 bikes (working on a 5th).
Impressions:
Size: whoa, it dwarfs the Edge 500!  It's like the middle bear of the Edge family, with the 800/810 being too big and the 500/200 being too small, there's the 510 right in the middle!  Photo shows comparison to an iPhone 4 and Edge 500.  This doesn't necessarily bother me, except it gives it a whole lot more area to get broken during a mountain bike mishap, so I might have to look into alternative mounting options on my mountain bike.
Touchscreen:  I was hesitant when I read the 510 would be touchscreen.  However, I have been pleasantly surprised!  It uses a resistive touchscreen, so it does work with gloves (I confirmed this by using my thick winter gloves).  Respond is definitely slower than the screen on my iPhone, but is accurate.  Besides, I'm not texting on the 510, so this doesn't really matter!  I have not tried it while wet, though other reviews say it works well.  The screen is bright, and I did set it to be backlight at all times so I can see it.  Some reviews say it is hard to read in bright sunlight; however, I read this about the 500 as well and never had issues so I am not sure what to think.  If it wasn't a cloudy, gloomy, impending-snowy winter day, I would be able to say more on this subject.  I love how the screen has colors, which is nice because you can color code different activities, and to me that just makes it fun!
Usability:  I LOVE IT!  You can profile up to 10 bikes, which is awesome for a bike-a-holic like me that must own one from every category.  The 500 could only profile 3 bikes, and it was a pain in the butt (aka time consuming) to switch bikes – 5 or so different menus to click through.  On the 510 it is merely a swipe of your finger left or right to change your bike on the home screen before you start a ride.  This right there sells me on the 510.  Who cares about the other features, it's finally easy to change my bike!Also new to the 510 is the ability to have activity profiles.  On the 500 the same data fields were always shown, and were only changed if you went into settings and changed them.  On the 510 you can profile up to 5 different activities and chose what data fields are shown.  I set up 3:  Race, Ride, and Trainer.  The activities are color coded to your choosing (yes, pink and purple are options and of course I am using them).  Just another great feature that adds to the usability of the 510.  For example, when I ride the trainer I do not care about elevation and ascent/descent, so I have it show me time, speed, distance, time of day, cadence, and heart rate all on one page.  For racing I have it set up to show time, distance, speed, heart rate, and cadence on one page, as I am too busy suffering to care about anything else.  For my ride setting I have 3 different pages that go into a lot more detail, including elevation, total ascent/descent, temperature, calories, heading, etc.
Overall the menus are easy to use, and I didn't have to bust out a manual to figure them out.  Granted, I am experienced with the 500, which helps out.  The 510 just seems overall more user friendly and intuitive.  I find using a touchscreen much easier than buttons like on the 500.  With the 500's buttons I constantly would find myself pressing the wrong ones.  Touchscreen is just simpler, touch where I want for what I want!  No remember what button you hold down for menus, and what takes you back, etc.
GPS: The 510 uses GPS and GLONASS, and I'm finding it to be super quick to find satellites, even indoors away from windows (within seconds… even when my 500 was working properly it struggled to connect to satellites indoors).  I'll be able to truly judge accuracy the first time I go on a wooded mountain bike ride.  Like on the 500, I set it to data record at 1 second intervals.  As long as the 510 doesn't show me making crop circles while on a straight road, I think we'll get along just fine!
Bluetooth and iPhone Connectivity:  The big "feature" of the 510 is the Bluetooth connectivity to iPhones and Android phones.  Using the free Garmin Connect app, you can send stuff back and forth between the phone and 510.  For example, the 510 can be set to automatically upload an activity to Garmin Connect via the phone.  You can also enable Live Tracking, which is just that – live tracking of your activities for users you approve (or hell, you can link it on Facebook and let everyone stalk you).  Since I often ride solo, this is a nice "peace of mind" feature for Matt, so at least if I bonk my head and am laying on a trail somewhere he can hopefully eventually find me.  Now this is all dependent on cell service, naturally, so wandering off in the wilderness most likely won't get tracked.  You can also use the app to send workouts and courses to the 510.  The phone can also send weather updates to the device, though only showing 3 hours and no radar data so it is fairly minimal in its usefulness if you ask me.  All of this fancy stuffs was easy to set up.  I am not good with technology, and I handled it all without using the manual, so I'd say it's pretty foolproof for set up.  My only complaint about this feature is the lack of support for third party sites such as Strava.  Yes, I back up all my activities on Garmin Connect, but Strava is the guts of where I store and analyze and fret over my ride data so if I could instantly upload to that site it would make the 510 that much better.
Extras: The 510 has lots of little extras.  One of these is "Personal Records" which keeps track of longest ride, fastest 40k time, biggest climb, among other things.  Neat little extra.  There is also a way to set time and distance alerts (and if you have a power meter, power alerts).  I can see how the time one could come in handy for a nutrition reminder, which is something I definitely need to work on so having a device beep at me might be the answer!  For each bike profiled you can choose from 20 bike icons.  Once again, nothing really of importance, but a nice snazzy touch that brings some fun into the picture.  Then of course there is the Workouts and Courses features, which I have not had a chance to work with yet, but is something I should at least try out (other reviews, such as DCRainmaker's, go more in depth about the workout and course features).
Do I think that it was worth upgrading to the Edge 510 over just replacing my 500 with a 500?  YES!  The biggest selling points to me was the added GLONASS satellite system, ability to profile 10 bikes, and activity profiles.  These are all features that I find important.  The Bluetooth and Garmin Connect features are an added bonus, but not a make it or break it for me. I am definitely looking forward to getting some good use out of the device, and finally being relieved of the frustration my Edge 500 was causing me (hopefully… knock on wood!).  There's a snowstorm moving in, so most likely my first trials will be on the trainer.
Retail Price: $329.99.  Performance Bundle is $399.99.  I find the bundle to be a great bargain for the extra $70, as you're getting roughly $170 in extra accessories.  I needed the extra Speed/Cadence Sensor, so that right there made it worth it to me.  Sure, don't exactly need a spare heart rate monitor, but no biggie.  The added bonus to me was the out-front mount.  I definitely feel as if I got my money's worth out of the bundle.
For a follow up post about how I am liking the Garmin Edge 510 after 7 months, click here!
Disclaimer: I purchased this item at full retail price for my own personal use.  All comments and opinions are my own and I was in no way compensated for the review.